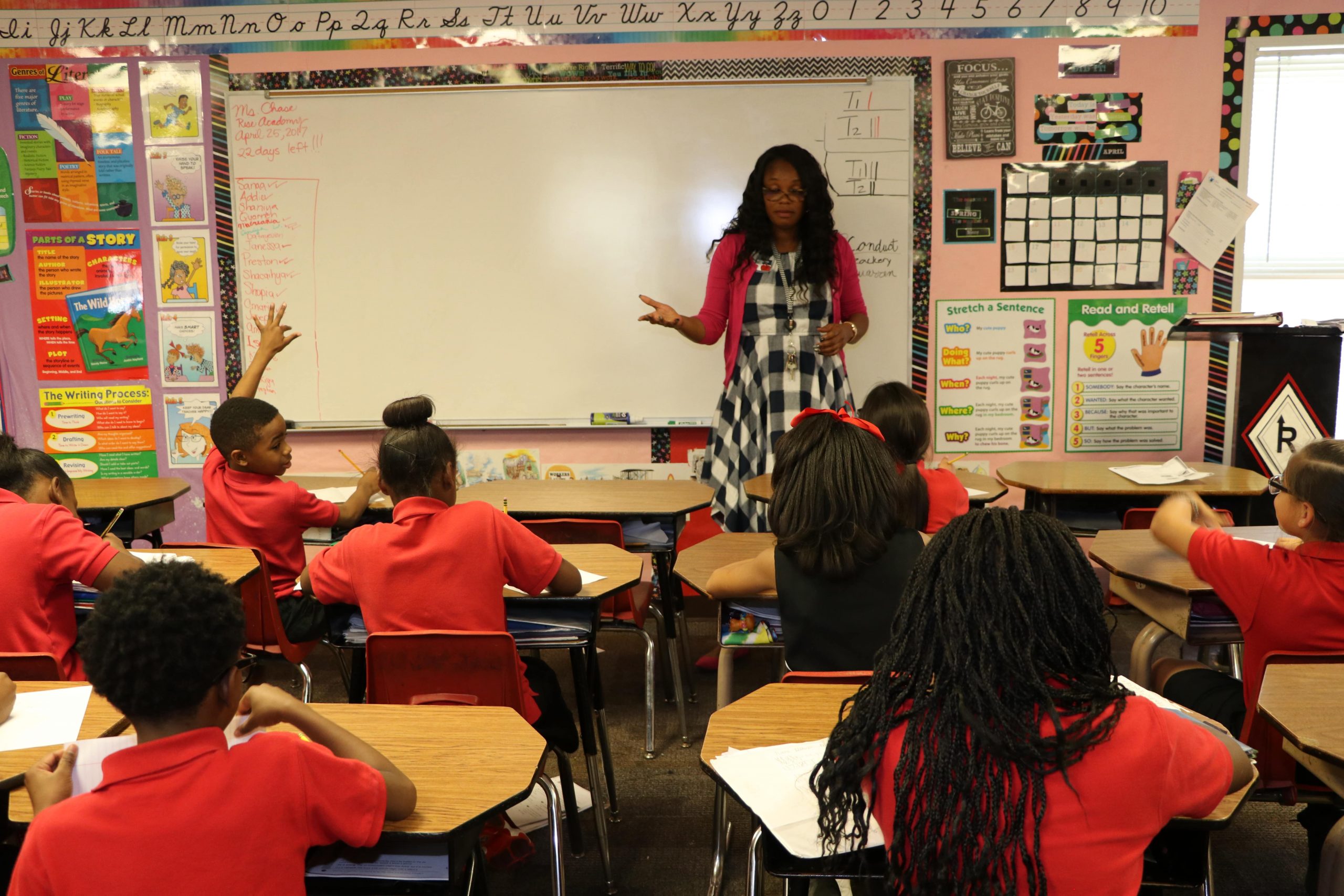 What Is a Charter School?
Charter schools are independent public schools of choice. Rise Academy is completely independent of any existing traditional school district.
Charters operate under a contract that the state has granted to a group or organization to run a school using state and federal funds. This allows the school to operate without charging tuition.
Enrollment in a charter school is open to all students regardless of where they live, their ethnicity, or income. Attendance at a charter school is totally based on parental choice – no students are assigned to a charter school as is the case in traditional public schools.
What Is Rise Academy's Academic Program and Curriculum?
Rise Academy features early immersion in academics at the lower grades and a college preparatory program in the upper grades. Teaching at all levels is characterized by teacher-directed instruction in a very structured setting.
Rise Academy uses Reading Mastery, a nationally recognized direct instruction reading program developed by Ziegfried Engelmann.
Saxon Math is used and combined with other resources and materials to teach math in grades pre-K through 2nd at Rise Academy.
For grades 3 through 6, Rise uses a late-edition Open Court reading series that is supplemented with materials focused on reading comprehension. Novels and other selections are featured more in 7th and 8th grades.
Mathematics in grades 3 through 8 is taught using a variety of sources and materials arranged by Mr. Baumgartner and the teaching staff.
In addition to the core subjects of reading, math, science, language arts, and social studies, Rise emphasizes the development of leadership and self-presentation skills through poetry recitation and annual theater arts performances.
Is Rise Academy a Religious School?
No. Charter schools are public schools and as such cannot specifically teach or endorse a particular religion.
What Are the Requirements to Be a Student at Rise Academy?
Rise Academy is open to all students. However, we often say that although Rise Academy is open to all students, it is not for all students because not all parents are necessarily going to agree to and abide by what Rise Academy requires of them as parents and their children as students.
Students must wear the school uniform and they must abide by the school's code of conduct. Homework is assigned daily and must be done acceptably. Students have to be on time and in regular attendance. Saturday school is required if students have too many tardies and/or unexcused absences.
Saturday school is also required if students have too many homework problems or if they fail weekly tests in the core subjects in grades 3 through 8.
The Rise Academy program is rigorous and demanding in the pursuit of excellence, and those parents and students who are not willing to make the effort and do their part will probably not be happy at our charter school. Rise Academy is a school of choice, but it is not necessarily the choice for everyone.
Why Was Rise Academy Created?
Rise Academy was created by founder and director Richard Baumgartner to provide low-income, minority children with a better prospect in life through superior education.
When Was Rise Academy established?
Rise Academy opened in September 1999.
What Are Rise Academy's Academic Results?
Charter schools in Texas receive an academic rating just like traditional public schools. Rise students take the state STAAR tests in grades 3 through 8.
The academic rating system for Texas schools was recently changed. Prior to 2012, schools were rated as "Exemplary" (the highest rating), "Recognized" (the second-highest rating), followed by "Acceptable," and then "Unacceptable."
From 2004 to 2011, Rise Academy was rated as Exemplary 7 out of 8 years. In 2013, the new rating system began classifying schools as either "Met Standard" or "Did Not Meet Standard." For 2013 through 2016, Rise Academy each year has Met Standard, with "Distinguished Performance" in nearly all tested subjects.
Rise students in kindergarten through 2nd grade take rigorous end-of-year tests which are similar to nationally recognized standardized tests such as the Stanford Achievement Test or the Iowa Test of Basic Skills.
How Do I Enroll My Child in Rise Academy?
Charter schools must follow an open enrollment policy. This means that Rise Academy must designate a period of time – for Rise it is a 2-week period beginning in early April – during which any parent may enroll a student.
If, at the end of that open enrollment period, Rise has more newly applying students at any grade level than it has openings for, students are placed on a waiting list in the order in which they applied.
If and when openings occur, students at the top of the waiting list will have an opportunity to enroll. Returning students have enrollment priority, as do their siblings.
Enrollment in pre-K is based on income, according to state requirements. Some students with household incomes that are too high may not be eligible. Parents of pre-K students need to call Rise to determine if they meet the income limits.
Pre-K 3 students must be 3 years of age on or before September 1st of the school year. Pre-K 4 students must be 4 years of age on or before September 1st of the school year.
Enrollment in kindergarten through 8th grade is not based on income, although all parents must report household income to meet state and federal requirements.
"Don't wait to give your children the chance for a better prospect in life. The hope for a better tomorrow starts today. Enroll your children in Rise Academy Charter School."
Rise Academy Board of Directors
Richard Baumgartner – Board President, Frank Gutierrez – Board Secretary, Raquel Gonzales, Deshun Avery